Learn everything about the Xiting Authorizations Management Suite (XAMS) and various topics around SAP Security in our live and on-demand webinars.
Here you will find all upcoming webinar dates, for which you can register for free via the respective link. You will then receive an email confirmation with your dial-in data.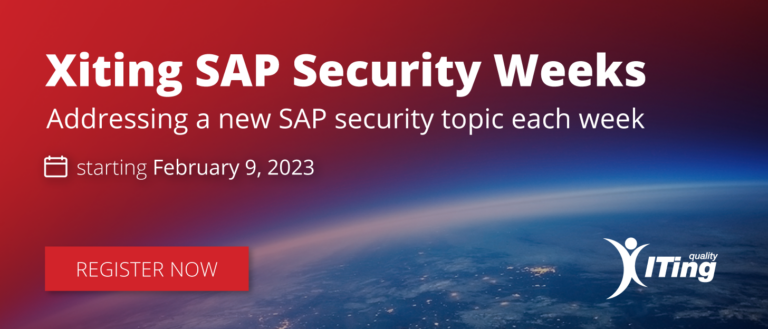 Title
Date
Start Time
Duration
Register

Top Pain Points with Fiori Authorizations

In the course of the mandatory migration from SAP ERP (ECC) to SAP S/4HANA for most SAP customers by the 2027 deadline, many companies have to migrate to SAP S/4HANA. It has recently been announced that the use of SAP Fiori apps for SAP S/4HANA is now mandatory rather than optional. Working with SAP Fiori is therefore becoming increasingly important. It is no longer sufficient to work in transaction PFCG alone, as SAP Fiori catalogs, areas or pages must be created and many other Fiori-based components must also be taken into account.

The associated authorization work is mostly new territory for many authorization teams and at the same time also fraught with a few hurdles. This webinar presents and solves these hurdles and pitfalls as key topics. It will show how, during a migration to SAP S/4HANA or when using the new SAP software solution S/4HANA, the SAP Fiori user interface can be harmonized with the company processes in terms of authorizations and how a central, intuitive user interface can be authorized for the end users. The goal is to present practical use cases of how an authorization concept based on SAP Fiori can be implemented and maintained.

Webinar takeaways:

- Protected Go-Live in authorization projects using SAP Fiori Launchpad
- Creation of consistent role transports including SAP Fiori objects
- Translation of customer-specific SAP Fiori applications or spaces / pages
- Mass maintenance of SAP Fiori Spaces / Pages
- Differentiation of authorizations within a SAP Fiori app using transaction SU24 variants

Speaker: Alessandro Banzer

9.2.2023

19:00 CET

1 hour

Register

Digitalize and Automate Role Requests and Password Self-service with XCW

In this webinar you will get a short overview of the 'Xiting Central Workflows' (XCW) tool. XCW provides you with standardized workflows that, in our experience, can be used to map the most important use cases in SAP user administration.

You will then be shown roles from the users' and the approver's perspective. In a live demo, roles will be requested through the Fiori interface - once as a self-service and once for another user.

Our customer Mr. Helmut Österle will explain how Xiting Central Workflows facilitates the daily work of Uhlmann Pac-Systems GmbH & Co.KG and emphasize the practical advantages of this tool.

Webinar takeaways:
• Understanding the added value of the XCW tool
• Insight into the Fiori interfaces and the password self-service

Speaker: Valerie Neunheuser & Helmut Österle

16.2.2023

19:00 CET

1 hour

Register

Centralized Security Monitoring: How to get a quick overview to protect your systems

Attacks on SAP ERP systems are on the rise but are often not detected at all or only too late. How can such attacks be detected automatically, promptly and across system boundaries in order to initiate appropriate countermeasures in good time? The solution to this is offered by SIEM systems, which monitor software logs in real time and trigger an alarm when critical events occur, such as the assignment of critical authorization profiles. However, these systems are often not connected to SAP systems due to technical challenges. On the one hand, this presentation will show how you can get a system-wide overview of your current security configuration at the push of a button so that you can invest your time in securing your systems rather than analyzing them. We will also present the new standardized interface of the Xiting Authorizations Management Suite, which enables a connection between SAP systems and your SIEM system.

Webinar takeaways:
• How to get a security-related overview of your SAP landscape
• Benefits of a security monitoring tool within your SAP systems
• How to avoid pain points of security monitoring projects

Speaker: Andre Tenbuß

23.2.2023

19:00 CET

1 hour

Register

Compliance Matters: Are rulesets a waste of time or an enabler for your organization?

Almost every company inevitably has to deal with its own risk environment and risk profile. However, what does this mean in terms of SAP authorizations? Can rulesets offer real added value? Can any company build it by itself or are there stumbling blocks and, in the worst case, does the ruleset become an annoying to-do? These questions will be discussed in this web session and illustrated with practical case studies.

Webinar takeaways:
• What is the real benefit of a ruleset
• How to set up a ruleset correctly
• What does a SAP S/4HANA implementation mean for my ruleset

Speaker: Erik Trouillet

2.3.2023

17:00 CET

1 hour

Register

Purpose and Necessity of the SAP Cloud Identity Services

SAP Cloud Identity Services (SCI) is a comprehensive solution for managing user identities and access control in the SAP cloud. In this webinar, we will discuss key features of the service and its benefits for businesses.

Since more and more SaaS apps are being onboarded it's getting harder to manage accounts manually or log in using passwords. The increased usage of the many SAP cloud solutions brings the need for centralized user authentication and provisioning throughout the whole hybrid SAP landscape. Sometimes customers just need to solve some basic authentication capabilities. On the other hand, it depends on the number of cloud solutions, requirements for harmonized user data and ID lifecycle, and what legal or compliance requirements must be taken into consideration.

With the SAP Cloud Identity Services, standards for authentication and user administration have been established as core services of the BTP. Identity Authentication (IAS) and Identity Provisioning (IPS) together with the Identity Directory (IdDS) represent elementary building blocks of an IAM for SAP cloud applications. They aim to provide one aggregated user-provisioning and authentication endpoint for cloud solutions from SAP. By supporting common industry standards like SCIM, SAML 2.0, and OAuth/OpenID Connect, many integration options into existing IAM architectures are possible

Overall, the webinar will provide attendees with a detailed understanding of how SAP Cloud Identity Services can help them better secure and manage their user identities and authentication processes in the hybrid SAP environment.

Key takeaways from the webinar will include:
• An overview of SAP Cloud Identity Services and its capabilities
• How the service can help improve security and compliance for businesses
• How to use the service to manage user identities and access control for cloud-based applications
• Real-world examples of how businesses have successfully implemented SAP Cloud Identity Services

Speaker: Carsten Olt

9.3.2023

19:00 CET

1 hour

Register

Challenges in Securing Your Hybrid Landscapes

In the age of cybersecurity and the rapid increase in new applications, the implementation of a holistic security architecture is essential.

The use of cloud applications creates hybrid landscapes that present many customers with new challenges. Not only do these cloud solutions have to be secured and documented, but new interfaces between cloud and on-premise solutions have to be implemented properly.

Webinar takeaways:
• Insight into the complexity of hybrid landscapes
• Identity access governance in complex landscapes
• Tools that are available as solutions

Speaker: Alessandro Banzer

16.3.2023

19:00 CET

1 hour

Register
SAP Authorization Management made easy with XAMS (Business Level)
In this webinar, we will introduce you to the unique software solution Xiting Authorizations Management Suite (XAMS). You will get a business-oriented overview of our solution, its features and the potential cost savings in your company. In particular, learn how to efficiently execute authorization projects by automating costly and time-consuming tasks, improving compliance and reducing the risk of errors.
Register
Harden RFC interfaces and other technical SAP Users in your hybrid landscape risk-free
Redesigning roles and authorizations of over-authorized RFC users in the complex SAP landscape is risky and time-consuming. Often customers shy away from such undertakings due to the risk of disrupting business processes. In this webinar, we will present a best practice approach to RFC and technical user redesign, lessons learned, and tools used to execute this project successfully, as recommended by SAP Consulting in SAP Note 1682316. Learn about: - Challenges with interface security - Overview about SAP Unified Connectivity (UCON) - SAP's recommended approach to reduce the exposure - How to test new authorizations of interfaces without impacting the business processes - Tools to replace SAP_ALL and other far-reaching authorizations risk-free
Register
SAP system audits are a necessary evil that every security administrator has to go through on a regular basis. In this webinar, we will show you best-practice tools that can audit your entire system landscape (on-premise and cloud) on an on-going basis, and report non-compliance as soon as it occurs. Learn about: - Challenges with SAP system and security audits - Tools that can automate the audit process - Safe-guarding and monitoring solutions to report non-compliance - Integration of audit relevant parameters into your full-fledged SAP security monitoring - Extension of related SAP audit events into your SIEM tool
Register
Topics of further
available webinars
Centralized Security Monitoring and Integration to SIEM
Security in SAP S/4HANA and SAP Fiori and their Impact on GRC/IAG
SAP GRC and IAG: How to analyze custom transactions in your ruleset
SAP Fiori Authorizations

What you need to know
Challenges and Solutions
Deep-Dive into debugging Fiori authorizations
Simplifying Fiori authorizations with automation tools
Best Practices for Spaces and Pages
Support Tools and Helpful Tools and Applications
Top Pain Points and Lessons Learned from Customer Projects
Overview of the SAP Fiori Central Launchpad service

S/4HANA Lessons Learned – best practice approach to migrating your security concept
Best Practice SAP Role Re-Design
Best Practice SAP Role Re-Design with Expert Tools
5 Audit and GRC Trends that should be on your radar in 2019
How to simplify SAP Role administration – Business Level
SAP Note 1682316 – How to redesign RFC interface authorization risk-free using automation tools
Case Studies:

Learn how Daimler AG optimized roles of RFC and other technical users in SAP
RFC Redesign and RUAG AG
How to simplify the migration of authorizations to SAP S/4HANA
fill out this form to gain full access to our
on-demand webinars